Clean and full, candied malt and hints of dates
Regular price
Sale price
R 180.00
Unit price
per
Sale
Sold out
Roast Style: Classic

These will be fuller bodied coffees that exhibit more obvious roast-centric flavours, like caramelised sugar.

While bitterness has its place in every coffee, there is enough of that in each raw coffee without us ever feeling it is necessary to add more of that through the roast process. For this reason, even our darkest roasts are still very moderate medium roasts, relative to the full spectrum of coffee roasts available in the market today.

Our classic coffees will make great espresso-based beverages, and they're a good option for french press and moka-pot brewing, especially if you like your coffee with milk.
Roaster's Notes

Whether you're a coffee connoisseur or an adventurous newcomer, this Peruvian washed community lot is a unique and delectable choice.

It's especially significant to take bean density and size into account when roasting mixed variety lots to ensure that each bean is roasted evenly, coaxing out their full range of flavours. Being one of our more 'classic' roast profiles, we carefully extend the development of this coffee. The result? Notes of chocolate and candied malt are complemented by prominent pear and date sweetness.

It's certainly worth highlighting the impeccable cleanliness of this lot, surpassing our expectations for an exceptional cup of Peruvian coffee.
Brew Guides

Click the link below to download a free brew guide with simple recipes to get the most out of your at-home brews.
Shipping info

Delivery Price

> Door to door courier: (R65 - R95, or free on spend of+R650)

> Collection: Free. (Orders can be collected at our Bree St Cafe.)

When will I get my order?

Collections:

Your order will be ready to collect on the first Tuesday or Friday that follows your order, at 13:00. We will send you an email confirmation when your order is ready for collection.

Courier:

We try to dispatch non Cape Town orders as soon as we can, and no later than the Tuesday or Friday that follows your order. Couriers take 1-3 days to deliver your package depending on your location.

We deliver around the Cape Town area every Tuesday and Friday.

We will email you confirmation of when your order is on it's way! 
View full details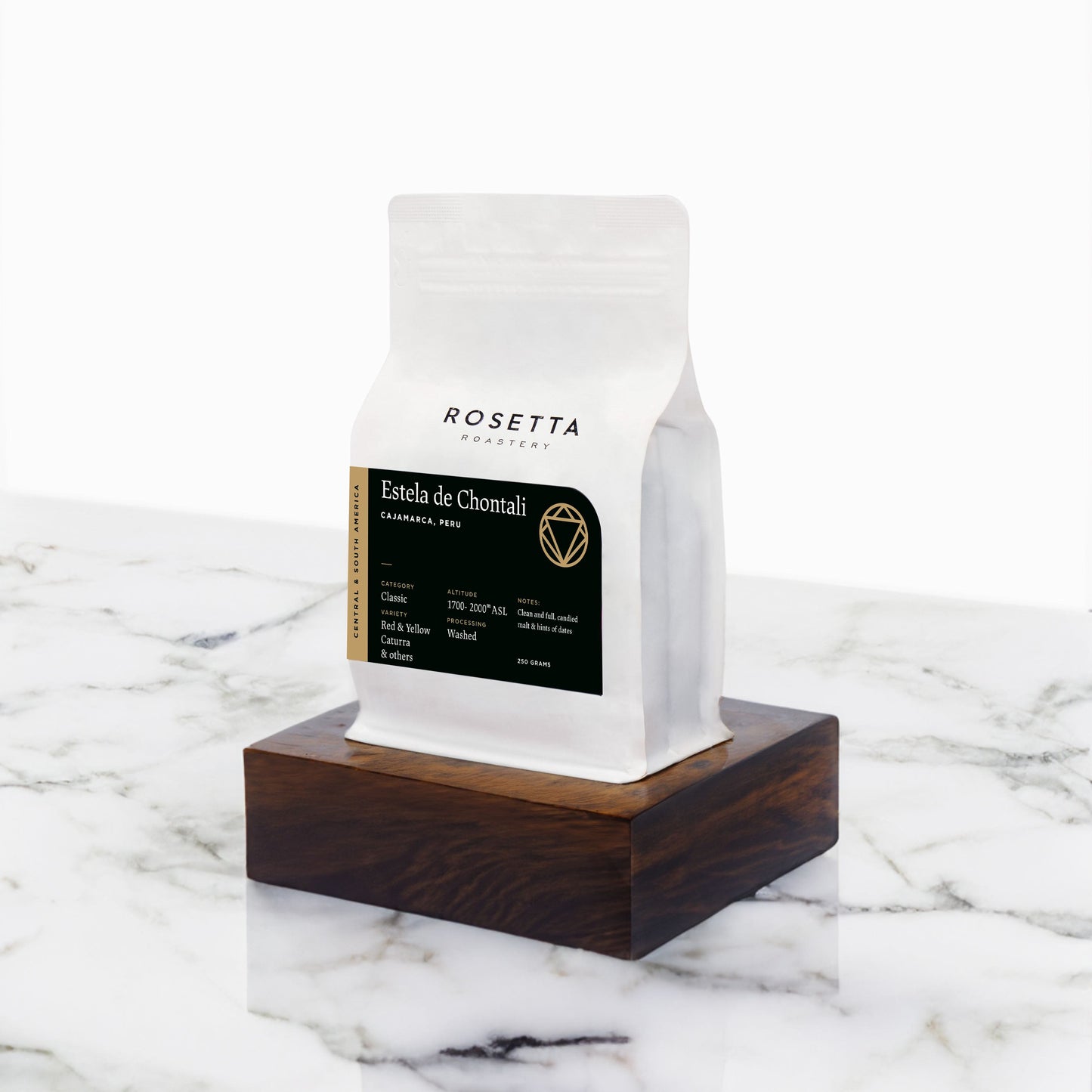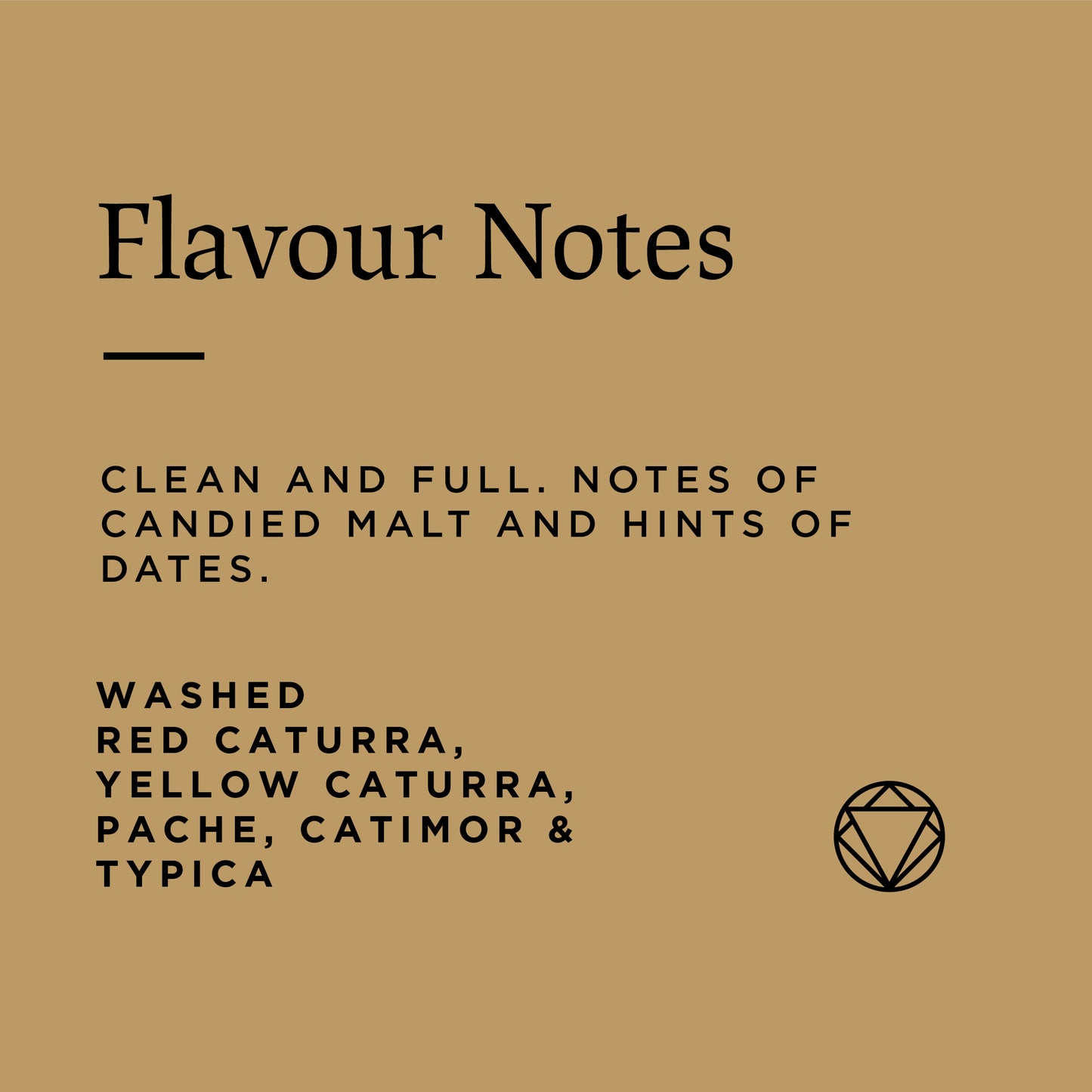 COFFEE ORIGIN INFO
Estela de Chontali is a community coffee lot produced by a small group of farmers in the Chunchuco Valley of Peru. The town's name takes its inspiration from a mysterious 1.8m tall calcareous stone that was found on Mount Corcovado in 1984. The stone has inscriptions from the ancient Chavin people, one of the oldest civilizations of the continent. Due to erosion, the complete meaning of the scene depicted regrettably cannot be deciphered. With recognisable snake and feline forms, many like to think that the scene is a foretelling of the ancient people's appreciation for the potential of the land for coffee cultivation.

The community of Chunchuco has a strong culture of cooperation and sharing of resources. This close-knit community of small-scale farmers is an integral part of the unique character of the coffee coming out of the region.

Altitude: 1700m - 2000m ASL
Processing: Washed
Variety: Red Caturra, Yellow Caturra, Pache, Catimor & Typica
Harvest: 2022
Region: Chontali, Jaén, Cajamarca, Peru
Producer: Smallholder farmers of the Estela de Chontali community
RECOMMENDED BREWING EQUIPMENT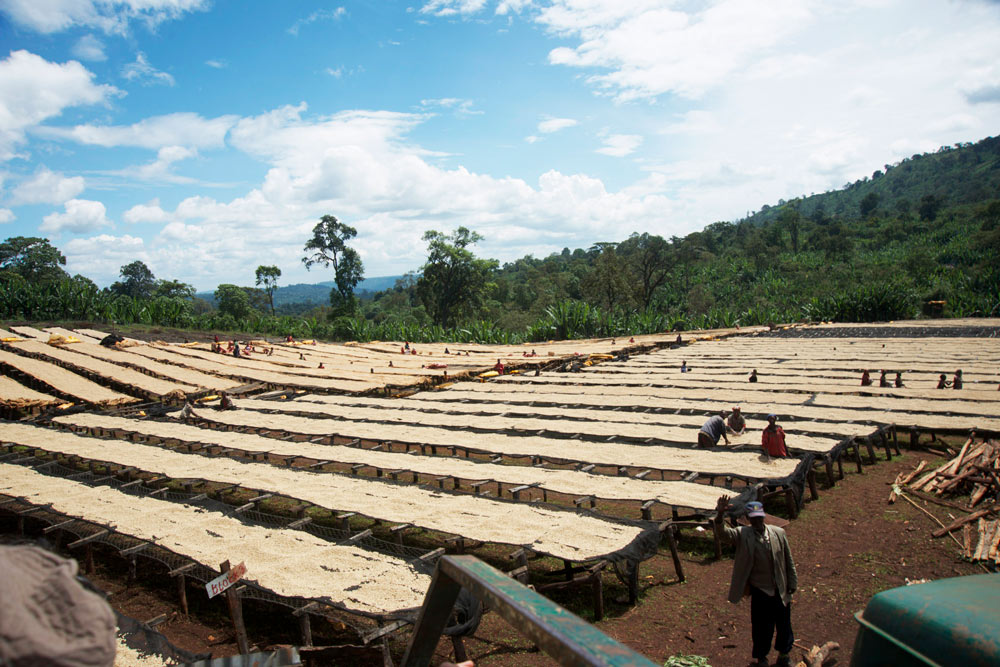 SOURCING PHILOSOPHY
For the last ten years we've had the privilege of sourcing, roasting and showcasing many superb and distinctive coffees.
There's so much exciting variety in coffee that we feel like we'd be selfish not to share it with our growing family of coffee lovers.
Learn How We Source